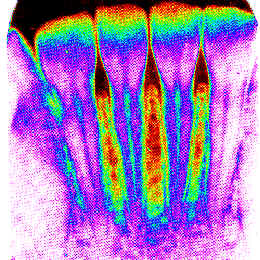 For almost 30 years, our practice has been instrumental in the
enhancement of dental X ray film to display such things as elusive
cracks in teeth, stress fractures in root canaled teeth and potential
microleakage of restorations. In fact, Dr. Mattie recounts his efforts
of doing this going all the way back to the early 1990s using
Windows 3.1, and a early graphics program called Publishers Paintbrush
to convolve X-ray images, apply Boolean digital subtraction and apply
customized 256 colored palettes to X-ray images to show various density
levels of hard tissue including our teeth.

Recently, scintillation crystal resolution in digital X-ray sensors has
supassed that of the resolution of X-ray film making it a suitable
alternative to using X-ray film. Also, computer speeds/memory
have gotten fast/large enough to support a realistic display of an X-ray
image on a computer monitor in as short as 3-4 seconds. We now offer
digital X-rays at our practice.

As well as the increased speed of image display and enhanced detail,
the advantages of digital X-rays are a 90% reduction of radiation
exposure, they do not require photochemical development (a plus for
our environment), and are easily stored on a computer for future
reference. Please click here for more information.


Read more
Send Comments [email protected] Friday, May 10, 2019