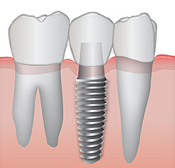 I was asked by a gentleman of concern that he would prefer
a conventional cemented bridge to a single tooth implant to replace
one missing tooth. To answer this you have to remember that every
patient's case has different parameters to consider. In his case, due to
a weakened state of his lower front teeth,he would need to use all of the
lower front teeth to support a bridge that would replace a single front tooth.
While this is possible, it's not very practical Also, by doing this you can
accelerate bone loss around the remaining front teeth. So imparting
knowledge and insight is part of my profession and I indicated to him
that a single tooth implant would be the better choice for his case.
Read more
Send Comments mmattie1@yahoo.com Wednesday, September 07, 2016